With Calvin Westfall, President of the BYU Translation & Localization Club
---
Below is a full transcript of this episode
Antoine Rey
Hi, my name is Antoine Rey, and I'll be your host today for this Global Ambition podcast episode. And my guest today is Calvin Westfall. Calvin is a language student at BYU in Utah. And the topic today is Local Codes, a translation volunteer club that he is the president of. Calvin, welcome to the program.
Calvin Westfall
Awesome. Thank you, Antoine. It's great to be with you. I'll just introduce myself a little bit. I'm a master's student at Brigham Young University in Utah and I study Spanish and I'm also studying Portuguese. I speak Catalan as well. I'm the president of the translation club. And like you mentioned, Antoine, I am also the director of Local Coach, our student-driven language service provider.
Antoine Rey
All right, very good. Well, let's dive straight into it. Let me ask you then, what was the drive? Because this is very interesting, the first time we have someone like you on the program. But what is the drive initially behind Local Coach?
Calvin Westfall
Yeah, so the club was founded in 2016 and I've been the president since 2018. And our purpose is to connect students to experience and opportunities in the language service industry. And last year at the beginning of 2020, we saw this gap between experience requirements that companies are always asking for, you know, three to five years experience in order to get an entry-level job.
And we saw this and we said, well, we're students. Some of us can do internships, but not all of us. Some of us are able to go live abroad. I was able to go to Spain to do an internship, but not everyone is. And so we founded Local Coach as a volunteer organization to give students experience in translation and localization.
Antoine Rey
Brilliant.
Calvin Westfall
And so we're here to bridge that gap between what the industry is asking for and what students are able to offer when they come right out of school.
Antoine Rey
And you saying that all of the students that you're working with, they all volunteer in the club, right?
Calvin Westfall
Yeah. So one hundred percent volunteer. It's full service. No one gets paid. I don't get paid. Yeah. And it takes up a lot of time, to be honest. But there is great satisfaction in knowing that I'm helping not only students break into the industry, but to prepare them and help the industry understand what our needs are as students, as we're graduating with our degrees and languages and in other areas.
Antoine Rey
Well, that's a great purpose. And I'm sure that a lot of our listeners, you know, that work for different companies in the world might be interested in getting some of your students in an internship like this.
Calvin Westfall
Yeah, that would be awesome. And just a quick plug at BYU. We have about thirty-three thousand students and across these thirty-three thousand students, about sixty-six percent, two-thirds of them, speak another language. At least one other language.
Antoine Rey
Wow, that's impressive.
Calvin Westfall
And one hundred and thirty-one languages are spoken among the student body.
Antoine Rey
Tell me what kind of clients, I suppose I don't know if you call them clients, but what kind of clients do you work with in that case?
Calvin Westfall
Yeah, so the different organizations that we work with, we partner with different organizations on campus here at the university. So we work with the business school. We have a couple of projects with them. We work with the communication school, with the university newspaper, and some of the social media stuff. We also are working with other organizations that are connected, like the G20 Interfaith Forum. The president of the G20 Interfaith Forum is actually a law professor at BYU. So we're in a project right now where we're working with them, preparing all the materials for their conference in Italy this September. So we have stuff on campus.
Outside of things on campus we also do things in our community with like the Hispanic center here in Provo. We've done lots of things like translating professional certifications. When covid hit Utah, we offered our services to help translate materials for all the different languages. Utah has a high rate of refugees, actually for the United States from all over the world. And so we offered our services to help get covid related public health-related materials out. And then we also have some other things all around the states and a couple of projects that are international. So we're always looking to expand.
Antoine Rey
Would you be interested in this case… or do you work well with for-profits like, you know, private organizations, like any of the clients that we see in the localization industry, for instance?
Calvin Westfall
Yeah. So here in Utah, they have this group called Silicon Slopes. It's the new Silicon Valley. It's what they like to say. A lot of the tech industry is growing here in Utah. So we do part with groups here in Utah. And with that, we're a little bit more hands-off. But we do connect students with internships and we'll do career fairs. We either do the volunteer stuff with nonprofits or university community organizations. And then when we're working with vendors or organizations in the industry, we'll tend to maybe go a little bit more hands-off and connect them directly with internships or job offers or try to set those up at least.
Antoine Rey
And I'm sure like organizations like Mozilla, we had Jeff Beaty on the podcast not so long ago and recommended your name, by the way. And I know they're translating to two hundred and twelve languages or something like that, and their purpose is probably not too far from what you guys are doing. And they're looking for volunteers all the time. So that's probably a good forum as well for you guys.
Calvin Westfall
Yeah, we love Jeff. He actually teaches our machine translation class over for the translation and localization minor here. And yeah, he's with Mozilla. They localize the Internet into hundreds of different languages. And so when we have students that speak languages that aren't as common like maybe Marshallese or something like that. There's not a ton of things to do here in Utah, but through Jeff and his work at Mozilla or organizations like Translators Without Borders, we've also partnered with to connect students to those experience opportunities.
Antoine Rey
Great purpose behind all of this. Fantastic. Tell me then, you know, because we all see different challenges in our professional lives. I'd be interested to understand what type of challenges you're facing with the club?
Calvin Westfall
Yeah, of course. So the biggest one. So we do have a translation and localization minor and the Spanish translation major here at BYU. And so through that coursework, we do have a good amount of students that are able to learn translation theory and learn how to use CAT tools. But a lot of our volunteers aren't in those classes. They're part of the club because they want to be involved in translation localization. But they either study journalism or business or they're premed students and they want to break into translation localization, but they don't have the knowledge or the skill set. And so we try to help them.
Our biggest challenge is training these students. We know that just because you speak another language doesn't make you an automatic translator. I'm writing my master's thesis about that, actually, as bilingualism as a translators competency. But our big challenge is training them, helping them learn the processes, how do CAT tools work. What does a project manager do? How does how do deadlines in the language service industry factor into how you approach a project? And so a lot of that's probably our biggest challenge. And then all of that, of course, is compounded with covid not being able to meet together. Everything's been remote for the last year and a half, almost. Yeah. Just getting not just the experience, but also the knowledge and the skill set to the students that have the desire to learn.
Antoine Rey
And so outside of BYU providing this, are there some resources that the industry provides or could provide to you, that would be helpful?
Calvin Westfall
To be honest, I'm not aware of a whole bunch. I know that the students that are studying translation localization, not just at BYU, but in other places are thinking about this, you know, what kind of resources are out there. But I spoke on a panel at the GALA Connected conference just last month in March with some wonderful students from the Middlebury Institute of International Studies in Monterey. And we were talking just about this. How can we help the industry connect a little bit more with the students coming out of school? And what kind of resources are there and what kind of things we would like to see? And one thing that I would suggest that I learned from my colleagues at MIIS is helping develop a mentor program.
So that's something that we're looking to do here at BYU as well, and maybe encourage people in the service industry to think about that. Can they mentor students? How many students would they be able to mentor? Not necessarily just on an internship basis to bring students into work for them, but also to be a career mentor or an academic mentor to think about their career path and what kind of things would help them get to where they want to be.
Antoine Rey
Well, let's make a call to all of those that are listening to us in this case and making sure that there are some not only mentorship programs but internships as well as potentially somebody that has like training or learning material that they can share with the kind of community that you're driving. That would be awesome, I guess.
Calvin Westfall
Yeah, we would absolutely love that. One of the things that we have seen in this industry, we're very collaborative. I think we're very open to sharing and to learning more about one another. And I think that this mentorship program embodies that spirit of of collaboration. And so, yeah, we would love to hear from you.
Antoine Rey
Great. OK, so and then what happens next for you and for the members of the club, like have you followed the evolution? You've been engaged for so many years and you're still finishing your degree in masters there. But other people have probably gone through the club and moved on as well. Can you tell us a little bit about what's happening? What kind of a springboard does that give to some of the students?
Calvin Westfall
Yeah, so before we founded a Local Coach just with the club, we would do career fairs and workshops with different people in the industry. We'd bring them into campus. And just from those experiences, we were able to land, you know, a dozen student jobs. They would meet someone in March at a career fair, do an internship over the summer, and get hired full time in the fall, you know, right after they graduate in the summer.
Antoine Rey
That's amazing. So that bridging the gap is working somehow without having three to five years experience. You have some sort of experience doing your college degree there that brings you to a job , right?
Calvin Westfall
Yeah. And we're finding that once these companies that are looking to hire, once they're able to work with the students, work with us and see like, OK, they may not have three to five years, but we work with them for six months or a year. We know how they work, you know what the skill set is. And we feel comfortable bringing them on. And so we've had a dozen students go to that in the last two years or so that I am aware of, I know that there's more out there that are doing things that aren't necessarily language service industry-related, but they use the experience and leverage that in other fields.
One of our vice presidents Caleb met someone at a LocLunch, which is also a great plug for a great program. He met someone at a LocLunch. He graduated in December, met someone at a LocLunch in January and got hired full time in February.
Antoine Rey
Look at that.
Calvin Westfall
And this company is based in Argentina. And he did it all from his apartment in Utah. Right. And without these initiatives that, you know, not just us at BYU, but others in the industry are pushing to create this connection, this web of connections that wouldn't have happened for him. And so it works. I think we just need to keep working at it.
Antoine Rey
Way to go, LocLunch. That's a great initiative indeed. Like, I've been to a few of them here in Ireland as well. And what's next for you then? Where where are you heading?
Calvin Westfall
So I have a year left. Once I finish my degree, I'm looking to enter the industry and work in translation localization. I've done stuff with project management. I love sports. My internship was with the soccer club in Spain. And, you know, I've seen a little bit of behind-the-scenes of how the sports industry works, but also how the language industry factors into that. I'm a big soccer fan. And then, yeah, I've done stuff with medicine and business and kind of everything. You know, my translation professor, my thesis chair says you need to know everything. And so we'll see what I end up choosing for specialization. But yeah, I'm excited to enter the workforce.
Antoine Rey
Well, hopefully, our listeners can help and global ambitions can be another springboard for you to get your name out there and the rest of your students because it's a very interesting club there and that has a great purpose in the background.
Calvin Westfall
Thank you.
Antoine Rey
Great. Listen, thanks very much for joining our show. I'm sure we'll see a lot of you in the industry in the coming years. And it's been a pleasure to have this conversation with you.
Calvin Westfall
Thank you so much, Antoine.
---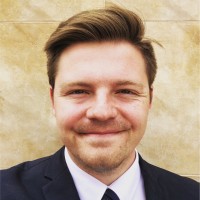 Calvin Westfall
President of the BYU Translation & Localization Club